The first 2007 release is available, with some exciting features...
A major addition is a new calculation mode of the start times: Compact -by Class

It's the required mode for championships in Belgium and for the Brazilian races in general.
Esta liberação conterá a característica para calcular os starttimes (tempos de partida) para cada categoria
.
This entails modifications (extensions) in several other places:

For each class, a first start time can be entered, plus a start step between the runners. There are no preferences, and no holes are left in the list. The algorithm makes sure that club mates are not close together...
If no time is entered, the default of the startbox will be taken, and the default start step from Config will be applied (but there will certainly be duplicate times if more than 1 category in a box!).
If there are Special Classes defined, then start times are ONLY calculated for those classes.
To help determing the first starts per class, the registration summary sheet shows now conveniently the numbers per class.

To facilitate the manipulation of such compact lists, 2 new keys are enabled in the start grid: INSert and DELete, for adding and removing a blank time.

Finally, another improvement: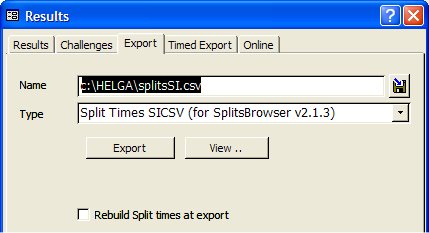 After some manual corrections to finish (course) times, the already generated split times were not correct anymore. Now they can be resynchronised (purges EmitData_Details).